Moderators:
Tim Audenaert
Maarten van Kleinwee
BHG 1cy May
BHG 1cy June
BHG 1cy July
BHG 1cy August
BHG 1cy September
BHG 1cy October
BHG 1cy November
BHG 1cy December
BHG 2cy January
BHG 2cy Febuary
BHG 2cy March
BHG 2cy April
BHG 2cy May
BHG 2cy June
BHG 2cy July
BHG 2cy August
BHG 2cy September
BHG 2cy October
BHG 2cy November
BHG 2cy December
BHG adult January
BHG adult Febuary
BHG adult March
BHG adult April
BHG adult May
BHG adult June
BHG adult July
BHG adult August
BHG adult September
BHG adult October
BHG adult November
BHG adult December
Account by Martin Reid of his observation of an adult Black-headed Gull between March 1998 and January 2000 at Village Creek Drying Beds (VCDB),Fort Worth, Texas, USA.
A summary of events:
March 2, 1998 - I found this banded bird at my local patch - Village Creek Drying Beds (VCDB), in easternmost Fort Worth, Texas. An unbanded Black-headed Gull (BHGU) had been present since January 24, but on this day I found two birds among the Bonaparte's Gulls, and this new one was banded.
March 2 - March 21, 1998: I tried on four or five occasions to read the band data on the resting bird (at VCDB and the nearby stirring tanks), with no luck (used my Nikon ED II, and a borrowed Kowa TSN1); I could make out some shapes on the band, but was not certain what characters/numbers they were. The bird was not seen again that winter.
Feb 2, 1999: I found the banded bird again at VCDB.
Feb 2 - Feb 28, 1999: I tried again to read the band while the bird was perched at the stirring tanks (with my Nikon) - but not able to discern any definite characters. Bird not seen after March 1.
Dec 24, 1999: another birder reports that the banded bird is back, at the stirring tanks.
Dec 25, 1999; I receive an AT80 HD for Christmas!
Dec 27, 1999: I see the bird at the tanks, and plan to try and read the band again.
Jan 7, 2000: I find the bird at his usual railing, and with my new 'scope at a range of c. 25 yards, I can read not just the band number (ST178. 394), but the small-print that tells me it was from Finland!
The Zoological Museum in Helsinki contacts me to confirm the data: this bird was banded as "young out of nest" on June 29, 1996 at Hamveenkyra (ca. 100 miles NW of Helsinki) by a Mr. Asko Puro. This is the first Finnish-banded recovery of any species from the USA (the second from North America - they had a Ruff from Newfoundland in 1976), and the furthest and westernmost BHGU recovery ever from Finland. It is only the 2nd banded BHGU from the USA ( a bird found dead in NY in c. 1976 had a Dutch band).
Dec 6, 2000: I find the bird again at its usual spot in the Treatment Plant and report it to the Finns. I recall that it was seen sporadically into late January 2001, but that no furthers sightings were ever made after that.
Link to details on Texas Bird Record Committee page:
http://texasbirds.org/tbrc/bhgull2.htm
Website Martin Reid:
www.martinreid.com
Below: Adult Black-headed Gull
Helsinki ST178.394

, with Bonaparte's Gull (left) and Ring-billed Gull (right). Photo: Martin Reid.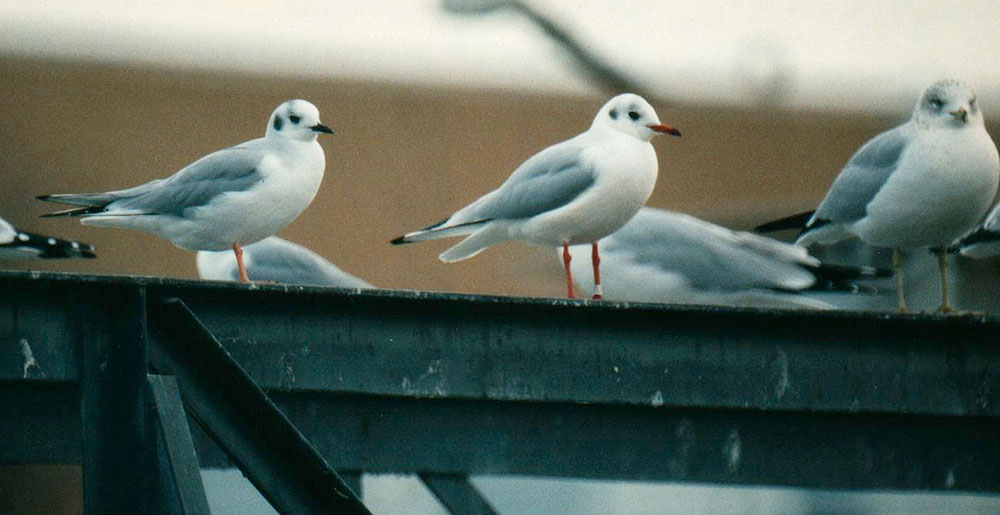 Below: Adult Black-headed Gull
Helsinki ST178.394

. Photo: Martin Reid.